SOME LUCKY GUYS FROM AROUND THE WORLD HAVE HAD THE UNBELIEVABLE PRIVILEGE OF MEETING THE MAN HIMSELF..DON'T BELIEVE IT? SEE FOR YOURSEVLES!!

July 15, 91 - On the scene of the Concert Hall "Russia" before the preview "HUM".
---

THE RUSSIAN EXPERIENCE
---

THE SHAHENSHAH OF LENINGRAD
---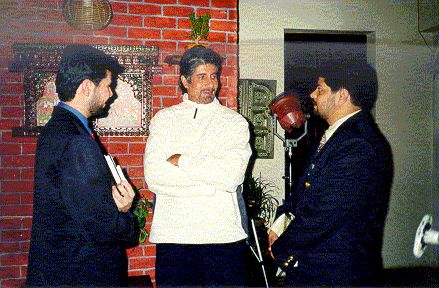 ZAIN WITH AB IN JANUARY OF 2000
Hello Everybody, Well i am back from an excellent vacation, i guess i could not have asked for a better one! I met Mr.Bachchan the same very day of my arrival i.e.6th Jan'2000, i guess what a wonderful start to the millenium with the Star of the millenium himself. Sorry folks could not inform you all about the meeting as i was tied up with some hectic activities- i felt like a hermit, totally cut off from everyone but i guess its always better late than never. I met Amitji at the sets of his fotrthcoming movie "AKS" directed by Rakesh Mehra (the same guy who had directed his music videos Eir Bir Phathe & Kabhi Kabhi). I am indeed very grateful to Miss.Rosy Singh for having given me this great opportunity of meeting my child hood idol. She had made sure all the arrangements & the only thing i had to do was to go to the venue which was a big house in Juhu (i think Roopam Villa was the name) & meet AB after the shoot got over. I & my cousin had gone there dressed in our best attires, we were let in immediately at the gate & then we were escorted to the top floor of the house where we were treated with some excellent tea, biscuits & mineral water. The wait was a bit long (nearly an hour) but it was all worthwhile coz after that came our moment of glory! We then were escorted downstairs by an assistant of the film where Amitji himself greeted us! - Just could not believe my eyes! We were standing there awestruck by his mere presence. He was sporting a grey french beard, was wearing a polo neck white shirt, a black jeans with joggers, his hairstyle was also sprayed with grey color too.Then started our conversation, we first gave him soveneirs that we had specially bought for him, he was hesistant about accepting the same but we were adamant, so he accepted gracefully & thanked us. I showed him my room pics which are filled with his posters, he was sovery happy to see them, i told him that he should make a visit to his museum in order to believe about the collection which i possess, he promised to do that- now boy that would really make my day again!. We concluded our meeting on a good note wishing both him & his family all the happiness & a special support to the Jr.Bachchan in his film career. He smiled again,shook hands & thanked us. Wow isnt that cool, what a gentleman, i bet you at that level when you have millions of die hard fans around, it is so very difficult to please all of them but our man makes sure that he really cares for each individual fan of his, now isnt that a reason enough for all of us to rejoice & celebrate to be fans of this legend called "Amitabh Bachchan" who is an even greater human being! Three Cheers for him! & may God bless him always! Zain

---

Raj with AB in June, 2000!


June 4,2000 This was my 3rd meeting with the Mr.Bachchan, I had met him once in Vancouver, my hometown and once in Calgary. Both of these times were when he was touring for concerts. I have been a Bachchan fan since the age of 3, I don't remember watching anyone else's movies. In June 2000 I arranged to meet Mr.Bachchan at his home in Bombay. When I entered the famous home it was like a stepped into dream world, pictures of his movies and rare moments were hung in the hallway. Before I entered the main room, there was a large picture of Abhishek, from the film Refugee. I was greeted by Ms.Rosy Singh, the person who had made all this possible. She was very polite and very nice. Without her nothing would have taken place.I owe a great deal to her. Once I entered the main room I was seated and asked for any refreshments, but I was too excited, not nervous. Since I had met Mr.Bachchan on two previous occasions, it was almost like I was visiting a friend. I waited for about two minutes and then the legend stepped out and greeted me with warm words and sentiments. I went inside his room and talked to him for an hour, Mr.Bachchan was so polite and generous. He never talked like he was a superstar, he was so normal and kind. He answered all my questions and loved the gifts I had brought him. One was a book which I had made about him and the other was an anniversary present. Once our conversation was finished he signed some photos for me and I was allowed to take some pictures with him. All I can say is that, there is know one like Mr.Bachchan, he truly is a legend. I think my next words will describe him the best: The best there is, the best there was and the best there every will be!!!!!!!!!!!

---
If you have your own Big B stories to tell, do mail them to bachchanweb.yahoo.com!!